Corporate Information
Meihoku Kogyo Co.,Ltd. with the assistance and guidance of Kobe Steel, Ltd. has been producing "TOP-QUALITY" wire for cold forming operations , mainly for automotive and aircraft industries and other machinery fastener industries
Profile
| | |
| --- | --- |
| NAME: | Meihoku Kogyo Co.,Ltd. |
| ESTABLISHED: | October 11,1947 |
| ENTERPRISE: | Producing C.H.Q. wire (for automobiles) |
| CAPITAL: | ¥60,000,000 Japanese Yen |
| PRESIDENT: | Yasukazu Fukunishi |
| LOCATION: | 1-8-1 Hachiyadai minokamo Gifu |
History
Nov.1946
Founded as Nippon Seibyosyo supported by kobe Steel.
Oct.1947
Established Meihoku Kogyo Co.,LTD capitalized with ¥500000.
Jun.1955
Production and Sales operation was started with trademark "SHINKO GEAR"
succeeded all of bicycle gear crank business of Kobe Steel.
Jan.1961
Started production of cold heading wire.
Dec.1964
Abolished nail production division .
Oct.1975
Accomplished Sakahogi Plant.
Dec.1978
Abolished gear crank production division.
Sep.1980
Increased capital to ¥60,000,000 joined by Kobe Steel and Shinsho Corp.
May.1998
Certified ISO 9002
May.2001
Certified ISO 14001
Nov.2001
Established Seymour wire, Indiana, U.S. joint with Shinsho American, the
subsidiary of Shinsho Corp.
Mar.2003
Capital joined to GBP, Michigan, U.S. with Kobe Steel.
Apr.2003
Operation started Minokamo Plant.
May.2003
Certified ISO 9001
Aug.2004
Moved the headquarters to Minokamo-City
Apr.2006
Operation Started Minokamo No2 Plant.
Dec.2007
Capital joined to KSP,Pinghu,Chaina with Kobe Steel.
Jun.2009
Introduced "Total Quality Management"System.
Oct.2013
Won The DemingPrize
Aug.2014
Certified JIS Q 9100
Aug.2016
Operation Started Minokamo No3 Plant.
Factory and Major Machines and Facilities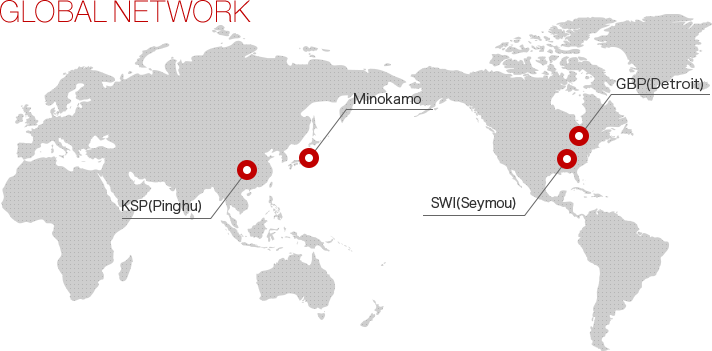 Manufacturing Locations
Head Office & Minokamo Works
| | |
| --- | --- |
| Zipcode | 505-0039 |
| Address | 1-8-1 Hachiyadai Minokamo-city GIFU |
| Phone numbe | 0574-24-0620 |
| Fax number | 0574-24-0616 |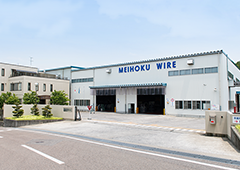 Overseas Affiliate Locations
Producing base in the United States (Detroit Area)


Grand Blanc Processing, L. L. C. (GBP)
Address
10151 Gainey Drive Holly, MI 48442
Phone numbe
810-694-6000
Fax number
810-694-5164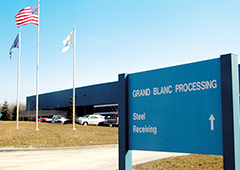 Physical distribution base in the United States (Columbus, IN area)


Shinsho-Meihoku Wire, Inc (SWI)
Address
3475 West International Court,
Columbus, IN 47201
Phone numbe
812-342-2409
Fax number
812-342-3257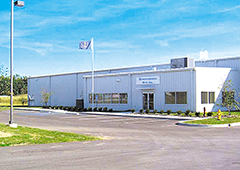 Producing base in the China (Pinghu Area)


Kobe Special Steel Wire Products (Pinghu) Co.,LTD (KSP)
Address
Pinghu Economic development Zone,
Zhenjiang Province
Phone numbe
(86)573-8522-3100
Fax number
(86)573-8522-3115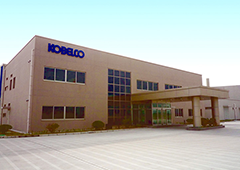 Manufacturing Facilities
・Pickling system
・Mechanical descalers
・Wire drawing machines
・Short Time Cycle Furnaces
Controlling Facilities
・Inspection machinaries
・Repairing machine tools
・Sewage disposal system
Product
Products
・steel wire for cold heading and cold forging
 (rimmed steel, aluminum killed steel, killed steel)
・carbon steel wire for machine structural use
・nickel chromium steel
・chromium steel
・chromium molybdenum steel
・boron steel
・special steel
・deformed steel wire
size
2.0mm~53.0mm
coating
・lime coating
・zinc phosphate + lube coating
・zinc phosphate + lime coating
We can respond to your request except the above.
Production Processes
We use, as raw material, wire rod manufactured by Kobe Steel, Ltd. one of Japan's most specialized integrated steel mills, (KCH Wire-rod) and all processes from its delivery to the final shipment of our products (as shown in pictures on the right) are under an excellent quality control system which upholds and even improves the quality of our products. About 70% of our products are processed further to such products as bolts, nuts and jointing systems to be used in automotive industries. Our products are also used to manufacture fasteners for numerous industrial fields including aircraft and other machinery.